Discover more from Why Try AI?
What AI can do for you. Yes, you! Hands-on, no-hype look at generative AI for enthusiasts.
Over 4,000 subscribers
10X AI (Issue #17): Ideogram, Google Cloud Next, AI Image Tools, and Creepy Simpsons
PLUS: Loom's AI suite, Poe's bot search, and improving the quality of Midjourney images with this one weird trick they don't want you to know (whoever "they" are).
Happy Sunday, friends!
Welcome back to 10X AI: a weekly look at beginner-focused AI news, tools, and tips.
Let's get to it.
This long post might get cut off in some email clients. Click here to read it online.
🗞️ AI news
Here are this week's AI developments.
1. Ideogram's free text-to-image model goes public
After making a few splashes already last week, Ideogram officially launched its text-to-image model on August 29.
Another image-making AI?
Why?!
Well, Ideogram's claim to fame is solving the classic issue with most other models: Their inability to generate non-gibberish text. DeepFloyd IF that I wrote about in May did something similar.
But it appears Ideogram truly takes this to the next level, maintaining text consistency even with longer sentences.
Some examples of prompts and results:
Homer Simpson with a T-shirt that spells "I Hate Peter Griffin", painting
Blacklight futuristic banner that spells "Why Try AI?", conceptual art, typography
Ideogram can still produce bad results and require a few re-rolls. Still, this kind of output was unthinkable before.
Ideogram's overall image quality lags behind standard bearers like Midjourney, especially for photographic images.
But it's 100% free to use, so do take a look for yourself.
2. Google Cloud Next happened…and stuff?
So the Google Cloud Next conference / event / gathering took place.
It's mostly aimed at developers and large enterprises, so much of it sailed right over my head. (To be fair, I'm 169 centimeters tall, so that's a low bar.)
But in parallel, a few announcements from Google might trickle down to us regular users soon enough:
New features in Duet AI for Google Workspace, letting AI spy on your meetings and take notes, help you summarize data, and more.

Proofread tool for Google Docs that helps improve your writing (only for Workspace Enterprise users for now).

The conference re-ignited chatter about Google's next-gen LLM "Gemini," even though I can't find any explicit references to the model from the Google Cloud Next event itself.
Is Gemini a threat to ChatGPT? Will it scale? All we know is that the model probably won't launch until around December, so I'm fully expecting this meme to start doing the rounds again:
3. Loom hops on the AI bandwagon
Loom's video messaging platform now has its own suite of AI tools. These can automatically generate video titles, chapters, and summaries, as well as remove filler words and pauses.
You can read more on Loom's AI landing page.
4. Poe now lets you search its bot collection
Quora's Poe has been consistently getting better over the past several months.
Now the team has added a new feature that lets you explore and search for specific custom bots:
Super convenient, considering the ever-growing amount of available chatbots.
Remember: Poe is free to check out right here.
5. RunwayML updates
Runway keeps adding new features to its already impressive video tools.
First, there's now a slider that lets you set the level of motion in the generated video.
Set it to "1," and you'll get something subtle like this:
Set it to "10", and things get pretty crazy:
Second, there's now a Beta feature called 3D Captures. It lest you upload videos of an object, which it then converts into a functional NeRF 3D scene that you can rotate and explore at will. Here's a sample from their site:
Why Try AI is a reader-supported publication. To receive new posts and support my work, consider becoming a free or paid subscriber.
🛠️ AI tools
Today I have a few single-purpose, easy-to-use, free tools for working with images.
6. Cleanup.pictures
There are many professional tools that can erase unwanted objects, text, etc. in images. (As I've shown, Midjourney inpainting can do that as well.)
But sometimes, all you might want is a quick and simple site for that single purpose.
That's where Cleanup.pictures comes in.
As you might expect, it lets you highlight an unwanted object and makes it…disappear.
Behold:
The free version allows you to download unlimited images in 720p resolution, which is nothing to sneeze at.
(Thanks to
of
for sharing the site.)
7. AIColor
AIColor is a one-click app that colorizes any image you upload. Great for adding color to old black-and-white images.
Let's see how it handles this totally real vintage photo of me as a Victorian gentleman:
Not bad at all!
You get a few free credits when you sign up.
8. SceneXplain
The last tool on the list doesn't manipulate your images.
Instead, SceneXplain can describe them.
It offers multiple image-to-text algorithms that vary in terms of speed, level of detail, factual accuracy, and so on:
I asked the "Dune" algorithm to describe my colorized vintage portrait. Here:
You start with around 20 free credits. Once you run out, you can buy more.
💡 AI tip
Here's this week's tip.
9. Get better images in Midjourney with Vary (Region)
I already covered Midjourney's new Vary (Region) tool, which lets you change specific regions of an image to whatever you want.
But an understated bonus effect of this tool is that it returns better quality output than the standard Midjourney images.
This was first discovered by Twitter (X?) user Javi Lopez and confirmed by Alie Jules. It appears Midjourney's inpainting uses a slightly improved image generation model.
So instead of selecting just a small area with Vary (Region), you can simply cover the entire image and re-run the original prompt:
Here's the original vs. inpainted eye: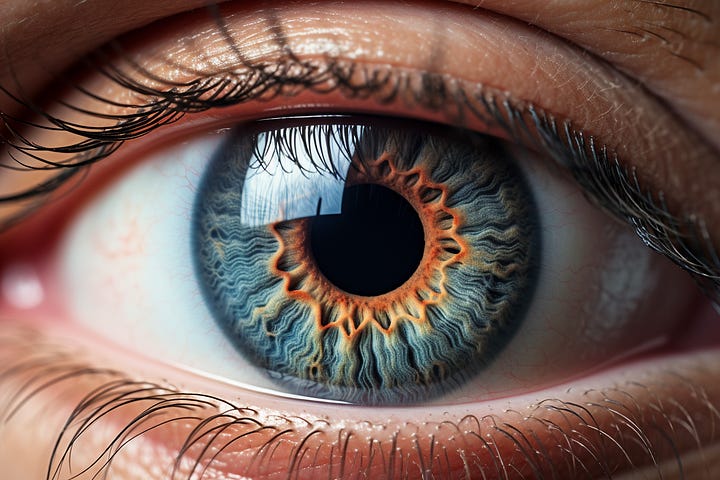 To my eye (ha), the difference is pretty minimal, but the inpainted image does have slightly sharper edges and better details.
Note that this method won't keep the initial composition and simply generate an entirely new image.
Why Try AI is a reader-supported publication. To receive new posts and support my work, consider becoming a free or paid subscriber.
🤦‍♂️ 10. AI fail of the week
I typed "The Simpsons, claymation." "Nightmare fuel" wasn't part of the prompt.
Sunday poll time
---
Previous issue of 10X AI: