Discover more from Why Try AI?
What AI can do for you. Yes, you! Hands-on, no-hype look at generative AI for enthusiasts.
Over 4,000 subscribers
5 Best Midjourney Prompts: January 2023
In this monthly segment, I collect and showcase some of the best promts for Midjourney. Use them for inspiration to generate your own epic images with MJ.
Update: All the monthly prompts are now added to this growing visual guide.
It's Thursday, so y'all know what time it is!
(Or at the very least, you know the day of the week.)
I'm back with what I hope to keep as a monthly segment: cool Midjourney prompts.
I published the first installment last December, where I also argued that Midjourney is currently the best AI art generator for getting great images from simple inputs.
That opinion still stands.
We're also seeing a shift from the practice of "splatterprompting" - stuffing your prompt with dozens of adjectives and parameters in the hope of forcing AI to do your bidding.
Newer AI models make lengthy, descriptor-filled prompts unnecessary. They're really good at understanding direct, simple, and specific descriptions.
In short, less is now more when it comes to text-to-image prompts.
So the Midjourney prompts I'll be sharing will typically be one-word tags that just by themselves have a powerful impact on how your images will turn out.
If you want to get these updates in the future, make sure to subscribe:
Thanks for reading! Subscribe to get new posts. (Check your "Spam" and "Promotions" folders.)
Ready to get started?
Prompt #1: Arrange things symmetrically
This one's for OCD freaks like me who enjoy stuff neatly organized.
Midjourney prompt: knolling [subject or scene]
What it does: "Knolling" is a photography term for overhead shots of items on a flat surface, placed in parallel to each other or at 90-degree angles.
Aaaah, blissful symmetry!
Midjourney's really good at mimicking and applying the "knolling" style to any concept, with pretty cool results.
Sample output images:
Prompt #2: Turn stuff into a 90s video game
Nostalgic for 1990s point-and-click adventures and other PC games of the era? You'll enjoy this one!
Midjourney prompt: 16-bit [subject or scene]
What it does: It basically makes everything look as if it was made for a 16-bit graphics card. Great for recreating the "old video game" look but also gives a nice vibe to images of scenery.
Sample output images:
Prompt #3: Create items out of any material
This is great for making anything look as if it's made out of, well, also anything.
Midjourney prompt: [subject or scene] made out of [material]
What it does: Just what it says on the tin. Experiment making objects out of whatever you can imagine.

I used this for my popular and literal take on "The Spaghetti Western." See what kind of crazy stuff you can come up with.
Sample output images:
Prompt #4: Try out layered paper creations
Perfect for getting a traditional "arts and crafts" look.
Midjourney prompt: layered paper [subject or scene]
What it does: Pretty much what it sounds like. Midjourney tries to replicate the process of placing different paper shapes on top of each other to create a sort of 3D "layered" look.
Midjourney doesn't always get the results strictly accurate in terms of reflecting true "paper layering" techniques…but it all looks great nonetheless.
Sample output images:
Prompt #5: Make isometric 3D scenes
Isometric art is all about making 2D illustrations appear like 3D objects. Midjourney is excellent at it.
Midjourney prompt: isometric [subject or scene]
What it does: You've undoubtedly seen the instantly recognizable 3D look in many city builders and other computer games.
Midjourney lets you turn any scene or object into one of those. It's magic.
Sample output images: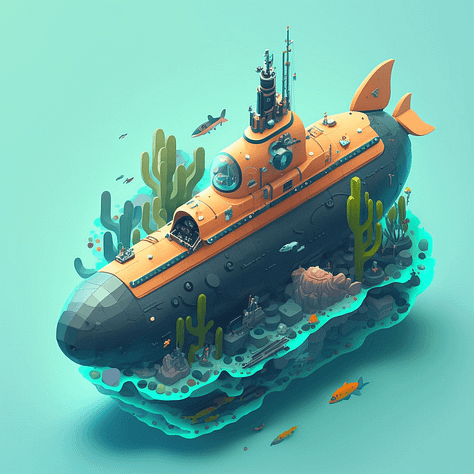 Over to you…
Now go out there and create cool stuff!
If you want to share your creations or have tips for great prompts to include in future posts, I'm all ears.
Send me an email or leave a comment below.
As of February 2023, all the monthly prompts are collected in this guide:
---
"Why Try AI" is 100% free to read for everyone. There are no content paywalls or other pay-to-access features.
But you can help support my work through an optional paid subscription. It's like buying me a fancy cup of coffee once a month. If you do, thank you!